4th- 6th of October 2011
We spent one last day relaxing in Vang Vieng, before booking our long journey to the 4000 islands.
To get there we needed to go from Vang Vieng to Vientiane and from there to Pakse. We left on the 5th of October and arrived on the 6th. The journey was long but perfect, as our bus was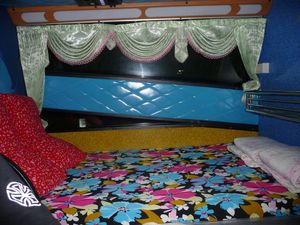 amazingly comfortable. Well the second bus that is, from Vientiane to Pakse. We luckily only had to change the once and the first bus was not that bad either and cost us 115.000kip each. In our bus from Vientiane to Pakse, we had a double sized bed on the top deck of a huge bus, with blankets and snacks and all was clean and very comfortable. We slept like babies.
At Pakse we ended up having to stay a night before being able to get any transport to the 4000 Islands. Sadly all hotels were quite expensive and there wasn't much to do. We finally came across a $12 a night room at Lao Chaleun Hotel, which would do and walked around a local market.
The next day we caught a minivan to the beginning of the 4000 Islands, where we would then continue by boat. One guy travelling with us told us to buy any little things we might need for the next few days then and there at some of the little shops that led to the water's edge, as prices on t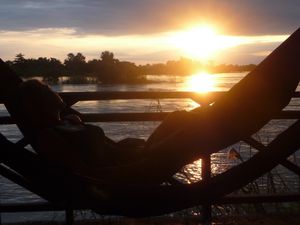 he Island were much higher. We bought a few things, and then walked down to the water, where a deck had been made up and the little motored boats were attached. We passed the man at the counter our tickets and went to sit with everyone else, all crammed in with our bags. When we were finally told to get onto one of the boats, it was a wonder it didn't sink. Bags were piled high, we were nearly sitting on each other's laps. But off we sped towards the main Island of the 4000.
On arrival we walked about looking for a nice place to stay with a view of the river. It was a funny little Island, with its locals, all friendly, kids playing in the muddy streets and animals in the gardens. We finally came across a hut that took our fancy; around 15.000kip a night, with a hammock on the balcony and a view overlooking the other islands and glistening water. It was perfect. A very basic room with just a double bed and the bathrooms and showers were shared, situated outside.

7thof October 2011
It was Nico's birthday. We woke up and opened our hut's door to the beautiful view of the sun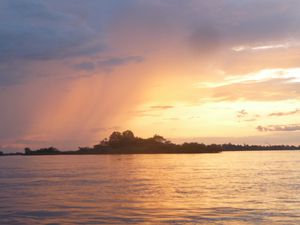 glistening off the river. We had walked around the Island the day before to see what there was; many bars and restaurants with cushions scattered all over the floors. Basically the Island was the biggest chill out place we had ever been to. We decided to start the day's celebration by having a fruit shake, followed very shortly afterwards by a beer and many games of pool. We got to chatting to a few people here and there, some came and played pool with us and before we knew it, we had been invited to join a group who were heading out to an Island in one of the little motorboats, with some beers. We happily accepted, it being the perfect sort of outing for Nico's birthday. The Island was miniscule, covered in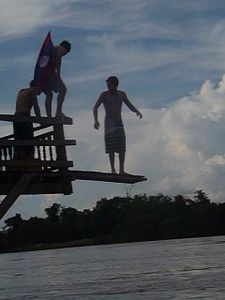 some shrubs and trees. We left the Island just before sunset and were taken out into the river, where we jumped off the boat and swam, whilst watching the sun go down. It was amazing! Many beers and much laughing later we returned to the Reggae Bar where we jumped into the extremely strong current of the river several more times before all sitting down too enjoy a lovely dinner.

8th-10th of October 2011
After Nico's birthday bash at the Reggae Bar we spent the next day or so simply chilling out. It was all about lying on the comfy cushions of a restaurants floor, whilst ordering fresh juices and delicious food. The rugby world cup was on at that point, so one afternoon we spent betting on each other's team, whilst listening to the match on the radio that was broadcasted at one of the English guys bar, as the TV's there didn't have the channel. All in all our time there went very fast, it was the sort of place where you could kind of get pulled into the relaxed flow that was everyday life and never leave.