28th – 29th of September 2011
It was still dark outside when we got up at 5am to catch our bus. However compared to the evening time, the locals were in full swing. The little food shops were all open, the owners bustling about serving people coffee and tea…etc. We waited for quite some time outside the minivan, getting slightly worried as no one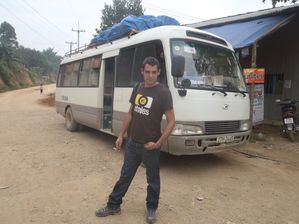 resembling a bus driver turned up, as our leaving time came and went. The minivan itself however was getting more and more filled up with sacs and boxes that the locals just kept on bundling in. We began thinking it would be a wonder if we managed to fit in. Finally an hour or so later than our supposed leaving time, a man from who we bought some biscuits for the trip, pointed out to us the driver who was calmly sat having a tea. We were soon all bundled in alongside all the stacks and boxes of products to begin our journey across the border to Laos.
We had been undecided as to how to go about our visas (do them in advance or at the border) however, given that we hadn't lef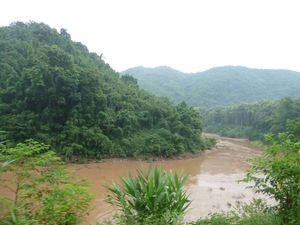 t ourselves much time at Dien Bien Phu, we were left with no choice but to do it at the border. Our trip to the border was much like the journey to Dien Bien Phu; zigzagging roads, lush jungle landscape and hardly a break to pee.
We arrived at 11am or so at the border and began the wonderful process of getting a visa. Firstly we did not have an ID photo, so that was $2 each (apparently to take one, which they didn't). Secondly a visa for a French person at this particular border was $30-35; an English passport brought it to $40. On top of all that you needed to pay a processing fee of 15.000vnd and convert some money into kip at a ridiculous exchange rate. All would have been a bit expensive but alright had we had enough dollars on us, instead we ended up having to pay part in vnd at their ridiculous conversion rate leaving us rather grumpy as we walked away with our lovely new visas having cost us a good $100.

Then back in the minivan we all got, which then drove us on throughout the afternoon. We drove through jungle tracks and rivers (for which the driver and friend had to bring the exhaust pipe into the van with some handy tools and much experience).
We came to a nice full halt at one point, where we all thought that we might be stuck right then and there for several days. We were driving up to one of the numerous big river crossings, when we had no choice but to stop, as a huge truck had got itself lodged right in the middle of it, stopping people crossing in both
directions and blocking all access to the other side. The driver and friend got out and meandered over to where several other men were sat on rocks, just looking at it. We all followed suit and tried to think of some way of getting across. After quite some time of no one really doing anything, we wondered down the river a bit to see if there wasn't another place we might be able to get the minivan to cross through. There was but it was ridiculously deep, with a huge steep bank on the other side. Even if it did make it across without getting swept away down the river, there was no saying it would actually be able to make it up the other side. Suddenly, all the men who had been sat around staring at the truck for quite some time now saw what we had spotted and started yelling at us all to walk across the river. We started to laugh as we took our shoes and socks off, ready to trudge bare foot through a rather deep river with a very strong current. As we slowly made our way across the river, our driver and several other men jumped into the minivan and drove off down the river and then made to cross it. We all held our breath as the van plunged into the rapid currents of the river and charged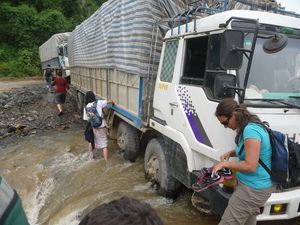 across to the other side. The bank it was heading to was steep and slippery. Accelerator down to the floor, the driver pulled the minivan up out of the river and up the other side. Further up the river and still trying to cross it bare foot, we all applauded.
The rest of journey involved several more rivers crossings (but this time less deep) and a quick break for lunch some hours later. After lunch we were told to take our belongings out of the van and head down a slope to a river. Little did we know, once we had crossed the river in a long tail boat, the little village on the other side was actually our final destination: Muong Khoa.
It cost 10.000kip to go across and once on the other side we were all left stranded completely unaware of where we were or what to do next. We started wondering up the steep hill from the river to the village centre, when we realised we had forgotten our only two fleece jumpers in the minivan on the other side, so Nico ran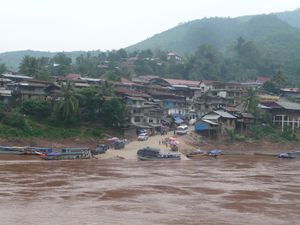 back down, succeeded to get the long tail boat to take him back across and just managed to catch the minivan before it pulled away back into the jungle.
Two of the girls from the minivan decided they would take a room for the night in the village and figure out their next move the following day, whilst another four of us wanted to try and catch another bus straight away, as it was only 1:30pm or so. The only shop that looked promising was a shop with western union sign above it. After having talked to several locals, including those in the western union and after having found out where we were reading in some guide books, we figured out that the bus station was a good 15minute ride out of town and that the next bus was to leave at around 3pm for some town (I think it was called Muong Nhe, but I can't say for certain, as we were just told it was going in the direction we were looking for).
Now to catch a tuk-tuk to take us out of town, we were told to go back down to the river and that every now and again they would come down to pick up passengers arriving. We waited for ever and were really losing faith that we were going to get to the bus station in time, when finally one turned up. He drove us quickly to the bus station and as it turned out we had lots of time to get our ticket (100.000kip to 120.000kip), have a drink at one of the little stands etc. before the bus was to leave (as we had been told, everything is relaxed in Laos).
The bus ride was quite long and tiring but nevertheless just as beautiful as before. We drove for several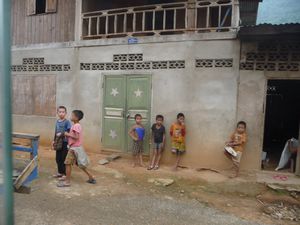 hours before arriving in a big concrete bus station. Even though cramped and getting pretty tired from the constant travelling we only had a quick minute to get our bearings and decide our next movement, as there was another bus leaving right then for Luang Prabang (our aimed destination). It was either another long bus trip straight away or staying one night before taking it the following day. Why wait, we scurried after the guys helping us find the bus and jumped on without even having the time to buy a ticket or get cash out to pay for one. They said that was fine and would drop us off next to an ATM on arrival, to then be able to pay for them.
This last bus ride was ridiculously long and we only stopped off at around 10pm for some food. We had misunderstood; we had thought it was only a 4-5hour trip. We got to talking to some of the locals just behind us in the bus who kindly shared their fresh oranges and apples with us, as we plundered on into the darkness for hours.
Finally at around 1am, we were told we had arrived. They dropped us off by an ATM, so we could pay for our trip. The streets were deserted; we seemed to be in the middle of nowhere. They asked if we wanted to take a tuk-tuk but we refused so as not to get ripped off due to commission fees at the hotel. With our two big backpacks on our backs we began randomly walking in which direction we did not know. We had seen some lights of what looked like a hotel some streets back, so we just aimed for them. With some luck, it turned out that the lights were that of a hotel, we peeped through the glass door and saw several men asleep on the floor. We knocked and they immediately got up to come and let us in. We asked if we could have a room for the night and they very warmly led us up a set of ornate wooden stair cases to a beautiful room, with silk pillows and glowing warm wood walls. It cost $12 a night, we didn't hesitate, having travelled nonstop for the last 24hours or so, thanked them and fell into bed.