22nd of September 2011
The morning bus to Hue was practically empty so we were able to take up several bunks at the back of the bus and sleep like babies the whole way. It wasn't terribly far however as come around 10am, we were being dropped off in front of a travel agency. We weren't sure whether to stay one night there or to take a bus straight away that evening to Hanoi, leaving us the afternoon to explore. However it was pouring down, so we retreated to a nice big room above the agency for 6 dollars a night. Nico had been feeling quite ill some days before and now it was my turn, so we spent the day sleeping and trying to get better fast.
That night we had dinner at a local restaurant and decided to try a spa. We had seen one earlier in the day and seeing as were quite sore from travelling and it was still raining we thought it could be nice. It was a bit more expensive than usual for a massage but we also got unlimited access to Jacuzzi, steam room and sauna. For 15 dollars each, we could get a Vietnamese massage and several minutes of hot stones together. For the price we therefore thought the standard would be top notch and very relaxing. However things did not go quite that way. First of all the Jacuzzi was not turned on and was cold, we just could use the steam room, which we did for several minutes. Then we enjoyed amazing massage chairs whilst we waited for our room to be made up. When we were told it was our turn, we were taken up many flights of stairs to a hotel room with two double beds. It was weird. The room was practically empty apart from a TV. We were determined to make it clear that this was not what we had asked for, so when the girls came up we both put ourselves on one big bed and wondered how on earth it was supposed to work, with no table no ambiance. Our massage then began, they turned the TV on, on which some silly Vietnamese series was being played, were texting on their phones, whilst they massaged with one hand and constantly chatted loudly amongst themselves. It was not at all what we had paid for. All we had wanted was a nice massage, done by professional, lying on tables, where you could put your head in the whole. The hot stones were good though. At the end they even had the nerve to ask for a tip and when we said we had already paid more than enough at the reception they proceeded to stomp of, mumbling something in Vietnamese. Quite something for a first Vietnamese massage experience and we won't be trying it again.

23rd of September 2011
On our second day in Hue, we decided to try and see at least one of the city's wonders. Hue itself is the capital of the Thua Thien-Hue Province and was once the Imperial Capital of the Nguyen Dynasty from 1802 until 1945, when the last Nguyen Emperor abdicated to Ho Chi Minh's revolutionary government. There was therefore many beautiful monuments and architecture to check out, recognised as UNESCO heritages sites.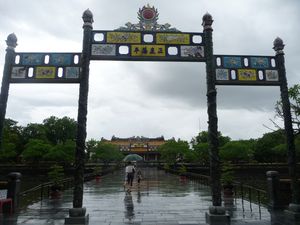 We chose to go to the Citadel, north of the Perfume River and seat of the Nguyen Emperors. To get there we decided against an organised tour, which was really quite expensive and opted for a more healthy option of walking. It wasn't far from what we could tell on the map. Half way there however we got hit with an extreme downfall of rain. Thankfully we had our rain "bags", but even they weren't enough, so we stopped to shelter next to four big canons, where we waited with some other locals for the rain to stop. After a while we made it to our d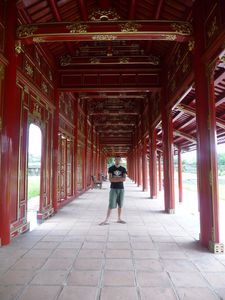 estination. It cost 55.000vnd to enter. Once through the main (Phoenix) gate, we made our way to the Thai Hoa Palace, all beautifully restored. Further on were two other smaller halls, forming a courtyard of which one of its sides (that is no longer standing) separated the more public area from the emperor's private residence "the forbidden purple city". However it is now more an open grassy area, where many buildings once stood. We wondered for quite some time around the rest of what was left of the citadel, lotus ponds and bridges and the Royal Library among others. Bonsai trees where everywhere.
It was still raining pretty hard when we were finished and ready to leave, so we decided to take a tuk-tuk back. It was a bike and carriage one which called us over first, so we were soon huddled into a one seat carriage covered with their plastic sheet to protect us from the rain. We only had a little peep-hole to look through. It was fun.
That evening we caught a sleeping bus to Hanoi, our last stop of our open bus ticket.