2nd of October 2011
A day before my birthday, we bought our tickets for Vang Vieng in a minivan for 115.000kip each and headed off to see what tubing and the other wonders of Vang Vieng were all about.
We left Luang Prabang at 10.000am to arrive at Vang Vieng by 2pm. That afternoon, after settling down in a hotel just off the main street, we decided to go and check out the Poukham Cave, apparently not too far by tuk-tuk and it had a blue lagoon. Now this turned into a rather interesting day. First of all we arrived at the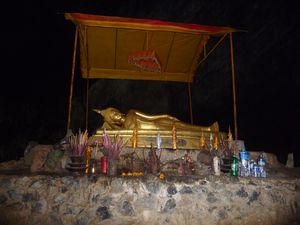 cave and could not find the so-called blue lagoon. Then we went up the steep set of stairs to the cave, having nothing but flip-flops on our feet and no torch. What we hadn't realised is that you could actually freely walk through the entire cave for kilometres, up and down slippery rocks, across puddles of water, whilst all the while looking out for big spiders. We made it down the first bit to where a big Buddha lay and began trying to go further on. It was after a lot of scrambling and slipping down rough rock that we realised we probably were not equipped enough to go on through. It was pitch black when we realised this and with luck we bumped into a really nice couple who said they would lend us their torch, so we could continue on a bit. We made a rendezvous to meet up with them later to give it back to them in the town centre. We didn't make it much further however, as we really didn't have much caving experience and our flip flops were not making it any easier for us.
We headed back to the cave entrance only to be met with a down poor of rain. We tried waiting for it to pass in vain, so clambered down the slippery steps, getting drenched to the bone. Our t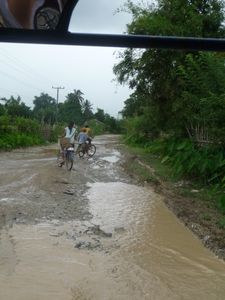 uk-tuk driver was waiting for us, ready to take us back. Two young guys standing next to it looked distressed. We asked them if all was ok and they explained that they had rented a scooter which had broken down (not a surprise really, as the road to get to the cave was a dirt track filled with pot holes). We asked them if they wanted to share a ride with us, so on they jumped, with the scooter. It was a funny ride back we bounced up and down, trying to keep the scooter upright when one of them realised they had forgotten the helmets back at the cave. They gave up to the idea of turning back and then we hit a pot hole. The tuk-tuk drove straight into it, as the rain had filled all of them up to the brim, giving you no indication as to how deep they were, we were pretty well jammed into it. We started helping by pushing from behind, as the driver did his best to rev us out. Finally the tuk-tuk came free, leaving one of the guys pushing to land head first into the puddle.
A good twenty minutes or so later of continuous bumping up and down we were dropped off at the guest house and the two guys left to find their way to a mechanic. After such a ride and the state of the boys scooter, it's a wonder any of the tuk-tuks are still in one piece.
That evening we went to the bar we had chosen to meet up with couple who had lent us their torch. We waited for them for quite some time, so ordered a few drinks. With any drinks you ordered you got a free bottle of Laolao whisky, to take in shooter glasses. Several hours later and still no sign of the couple, we had therefore ordered a few more drinks to have whilst waiting and began to realise quite what everyone meant by the party scene of Vang Vieng. The locals and the bar's usuals were never left with an empty glass, or if it did happen you were quickly poured one of the free shooters. Before we knew it, the clocks hit midnight and it was my birthday. People I had only just met began buying us buckets to celebrate and everyone wished me happy birthday, as we danced the night away. We also had the lovely surprise of two Australian girls and an Irish guy we had met in Luang Prabang and who had said they would come to go tubing with us for my birthday, turn up. It was a good night.

3rd of October 2011
The following morning we had made plans to meet up with the guys from the night before to have a big breakfast in one of the many cushioned restaurants with American Dad or Friends playing, before heading off to go tubing for my birthday. And then there was the hangover. We were seriously debating on going, having not slept much the night before and probably still tipsy. But at 10am we were trying to swallow a big English breakfast, when they all turned up, bright eyed and ready to go. We decided to let them go ahead and catch up with them on the river, whilst we finished our breakfast and got ready to go. Now we were not too sure exactly what tubing would be like. We had bought waterproof pouches to put only the extreme necessary, some cash, the key to the room and Nico's waterproof camera. We went to pick up and pay for our tubes for the day (which we had to get back by 7pm) and the price of the shared tuk-tuk to the river. In the tuk-tuk we actually ended up making some fun friends and spent most of the rest of the day with them. When we got to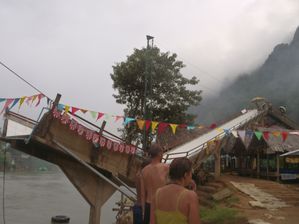 the river, we were told to make our way down to the water, get into our tubes and then basically stop at any bar we wanted. Across from where we got in, was the first bar and everyone simply went straight there. We got a free shooter on arrival and then bought a bottle of water and a beer to start the day at 10:30am.
The day went by in a flash. We continued down the river extremely slowly, as at each following bar, the guys would throw you a rope with a plastic bottle on the end for you to catch and they would drag you in to buy a drink at their bar. There were also many bars with games to play. For example, we stopped at one where you had to wear a pair of gloves and then hanging from a cord across the river was a bucket which you needed to get to, high five and then come back. If you managed to do it without falling, you got a free bucket. Two or three of the guys gave it a go and finally we won our free bucket of whisky. Another bar had a huge slide, which ended in the river. To have a go you needed to buy a drink. It was crazy. Every bar had great music, people everywhere and lots of laughing. Before we knew it we needed to head back if we didn't want to pay a late fee for our tubes. Most people ended up staying on for hours into the night and then just paid extra the following day. We decided to head back, but hadn't realised how long the river still was. We lay in our tubes, letting ourselves get pulled by the current down the river, to what we hoped would be the end. A good two hours later, we spotted some young boys on some rocks by the side of the river, just before some massive currents. They waved to us to pull over, so struggling against the gushing water, we waded across the rocks. We had made it to the end.
That night we had dinner in a lovely restaurant, before exhaustion and crashing into bed.