26th of September 2011
We had driven all through the night, when we came to a stop on a big parking lot. Many people got off and we thought it would be a good chance to finally stretch our legs, so we descended into the very cold, early morning. After quite some time standing around, we thought we would just go and make the most of the now empty sleeping beds, to have a quick nap before we started off again. However several hours later we woke up with the buses engine starting…we hadn't actually gone anywhere for the past three hours. Confused, we were told to get off the bus and were all bundled into a minivan, cramped all together with our bags. An hour or so later of climbing up into the hills we were dropped off at a travel agency. It was raining hard and very cold. We gave our tickets to the lady at the desk and were told to get back into the minivan, which would then drop us off at the "Sapa Summit Hotel" hotel. We were not allowed into our room until mid-day and in the mean time we were to have breakfast and start out on our first part of the organised trek into the villages.
After a huge buffet breakfast, we all went to meet our guides at the reception, all traditionally dressed with hand sewn dresses, jackets and cloths from their ankles up to their knees.

Our guide then lead us down the hills to Cat Cat village, where we watched people of the Black H'mong Tribe, weaving and embroidering clothes, blacksmiths…etc. The views all along the trek were breath taking. Rice fields spread out further than one's eyes can see. Buffalo roamed the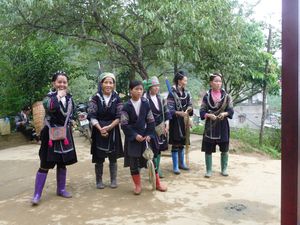 tracks. We were accompanied by a ridiculous amount of locals, many of them children. It was not therefore astonishing when came the point where they emptied out their woven baskets, with bracelets, earrings and hand embroidered bags. They said they had come far with us and that they could go home if we bought something off them. That along with the many stands set up all along our path, were the little things that we found a pity, as it really was only for us tourists and took away a little bit of the magic of the area, as we felt rather bad continually refusing to buy.
Back at the hotel we checked into our room and were surprised at just how nice it was. We had been expecting just about anything after the bus was not the sleeping bus we were promised. But the room was clean, had a nice big bathroom and shower with hot water and a TV. We had the rest of the afternoon and evening free to explore the town by ourselves, but exhausted from the journey up and a pretty full morning, we crashed into bed for a nice long afternoon nap. We later found out during dinner that most people had done the same. Dinner was also very well organised, we had a menu, full of little menus that we could choose from with a first course, main course and a fruit; all of this part of the tour package.

27th of September 2011
Our second day in Sapa started with a full buffet breakfast, followed by checking out of our hotel room before meeting up with our guide from the following day. This time the views were even more incredible (if that is to be said possible), we walked in amongst the lush rice terraces that covered all the hill sides, up and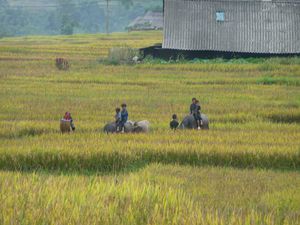 down, in and out of villages. Watched young boys herd up buffalos and ride on their backs, met our guide's family and saw her lovely little house in amongst their families fields of rice and vegetables (it was actually over an hours walk into Sapa and back for our guide every day, when she came to pick us up and then return home at night). We hiked to Ylinhho Village (the Black H'Mong Tribe) towards Lao Chai Village. We stopped for lunch along the Muong Hao River after an hour or so of having slipped and stumbled down an extremely steep cliff of runny red mud. It literally was a mud slide just waiting for you to miss your footing and roll all the way down the cliff. We were quite surprised that they hadn't told us of this obstacle, as it was rather dangerous especially if you didn't have any boots or proper walking shoes on. But we all somehow made it down safely, a few covered nearly entirely with mud, after having experienced sliding part way down. In any case it was a good laugh. After lunch we headed across suspension bridges (which you actually thought were going to swing you right off if you made it move too much) through Lao Chai Village to the Ta Van village inhabited by Zay minorities revealing a strong Chinese culture. At the end of the six or so hour hike, we arrived at a beautiful waterfall,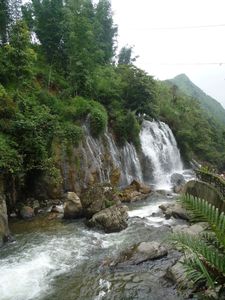 where we stopped to take pictures and in some cases buy delicious brochettes from some of the stands set up by the locals. We then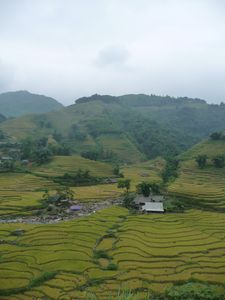 hiked the last little bit through the rice fields and across the last suspension bridge to where we were met by a minivan, which was to drive us the several hours back to the hotel.
Unlike most people who had arranged the tour including a return ticket to Hanoi, back at the hotel we had to figure out where we would be spending that night. The hotel room we had had the night before apparently was worth 15-20dollars or so, so we decided to walk across the road, hoping their rooms might be cheaper, which they were by far. We moved our bags and settled into our huge room with a lovely view of the rice terraced hills. We still had one last meal ticket from the tour package for dinner that night, so we decided to have a quick wonder around Sapa that evening before heading over to our hotel from the night before to make the most of another yummy menu.
The food market was extremely traditional with stands that even sold dog's tails and paws. We also had a quick look at the Catholic Church (the only one of the region) that had been built during the French Era, which wasn't actually anything too extraordinary. We walked to end of the centre of town and back again in only a matter of minutes and slowly walked back up the hill for dinner, as the night fell and the village lit up with many lights, as the famous weekend market started.